sickle_stories
Subject
: Death
Title
: The Undiscovered Country
Notes:
12 tracks (47.5 minutes) in mp3 format with cover art.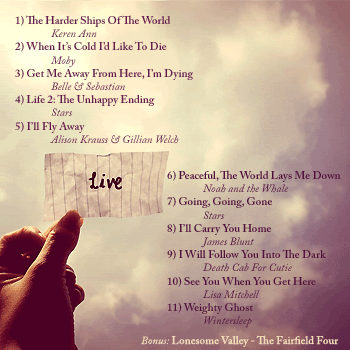 Zip at Mediafire
The Harder Ships of the World - Keren Ann
We sail the harder ships of the world
To the greater grips of the land
To the further lights of the soul
When It's Cold I'd Like To Die - Moby
I don't want to swim the ocean
I don't want to fight the tide
I don't want to swim forever
Get Me Away From Here, I'm Dying - Belle & Sebastian
At the final moment, I cried
I always cry at endings
Life 2: The Unhappy Ending - Stars
But life, turns out it's nothing but a dream
And I will miss it when it's gone
I want the story to go on and on and on...
I'll Fly Away - Allison Krauss & Gillian Welch
I'll fly away, Oh Glory
I'll fly away (in the morning)
When I die, Hallelujah, by and by
Peaceful, The World Lays Me Down - Noah and the Whale
Oh, if you don't believe in God,
How can you believe in life?
When we're all just matter tht will one day scatter,
When peaceful the world lays us down.
Going, Going, Gone - Stars
I'm scared but I'm okay,
(Going, going, gone.)
I'll Carry You Home - James Blunt
A song for your heart
But when it is quiet
I know what it means
I Will Follow You Into The Dark - Death Cab For Cutire
No blinding light or tunnels to gates of white
Just our hands clasped so tight
Waiting for the hint of a spark
See You When You Get Here - Lisa Mitchell
She said:
Darling, darling it's alright
She said:
Darling, darling it's ok
Weighty Ghost - Wintersleep
Oh have you seen my ghost?
Lonesome Valley - The Fairfield Four
You got to go to the lonesome valley
You got to go there by yourself
Nobody else can go for you